< Back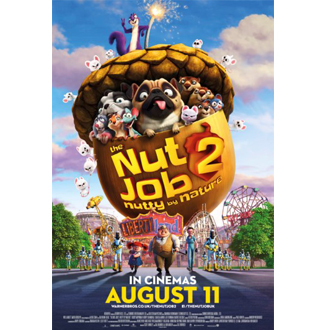 THE NUT JOB 2
Go nuts and win the Ultimate Summer Picnic, with THE NUT JOB 2: NUTTY BY NATURE in cinemas August 11!
IN CINEMAS AUGUST 11
When the evil mayor of Oakton decides to tear down Liberty Park and build an amusement park in its place, Surly, Buddy, Andie and the rest of the animals are suddenly homeless! Surely tries to fight back, but realises it's not going to be easy.
The mayor has got an animal control squad patrolling the park… Precious has been dognapped by the mayor's hyperactive daughter… And Surly has offended Mr. Feng, an adorable city mouse with deadly kung-fu skills.
Surly realises that he has to put aside his differences with the animals and get everybody to work together in order to defeat the mayor, rescue Precious, and save Liberty Park… Before it's too late!
www.warnerbros.co.uk/theNutjob2
To celebrate the highly-anticipated release of THE NUT JOB 2: NUTTY BY NATURE, we are giving one lucky family the chance to win the ultimate summer picnic! Go nuts like Surly, Andie, Precious and the gang as you feast on £50's worth of delicious food, before taking on a whole host of outdoor games including rounders, bat and ball and frisbee! Four cinema tickets for your family completes this epic prize with THE NUT JOB 2: NUTTY BY NATURE!
Prize package includes:
4 x cinema tickets to a screening of the winner's choice

1 x Wooden outdoor rounders set with stumps

1 x Nerf Aero Howler

1 x Pro football, size 3

1 x The Nut Job 2: Nutty By Nature merchandise set
Enter your details below for a chance to win.

© 2017 Warner Bros Ent Inc. All Rights Reserved. Characters ™ & © 2017 Redrover Co., Ltd. All Rights Reserved.
---
This competition is now closed.