< Back to offers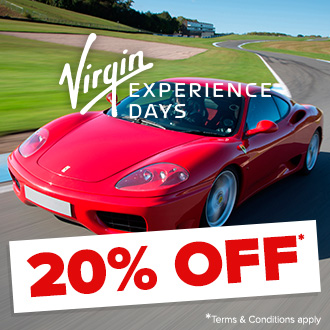 Virgin Experience Days
Save 20% with your Family & Friends Railcard on Virgin Experience Days
Just because it's a 'rail' card you've got, it doesn't meant the only place it's useful is a train station kiosk and the only wheels it can get you are attached to a track.
With a railcard in your hand, you've got access to 20% off every full-priced Virgin Experience Day, meaning supercars, spa days (good for resting after long journeys), three-course dinners (we'd take Marco Pierre White over a refreshments cart any day) and more are all on offer for less than you might think.
Ever wanted to see all of London at once instead of being cramped on the Tube? Take a trip up to The View from The Shard, where the sights stretch out up to 40 miles into the distance from 800ft above the city streets!
There's thousands of experiences all across the UK just waiting to be discovered, so to claim your discount simply head to www.virginexperiencedays.co.uk/familyandfriends-railcard to get your promo code and get ready to start exploring!
When you click 'Claim Offer' you will be taken to our partner's website. Once you have left our page please check our partner's privacy notice for information on how they use your personal data.
View full terms & conditions