The London Dungeon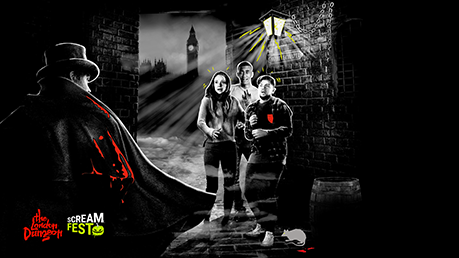 2FOR1 Admission: £30  (Price subject to change)*

**2FOR1 offer not valid 26 - 27 October**

Online advanced bookings now available!

The London Dungeon is a uniquely thrilling attraction that will whisk you way back to the capital's most perilous past. See, hear, feel and (ahem!) smell the chillingly amusing characters of the 'bad old days' as they come to life before you. Will the 19 live shows and 2 thrilling underground rides claim you? Whichever way, it's not looking good for your underwear! 
Join Screamfest at The London Dungeon this Halloween
This Halloween, the London Dungeon is going deeper, darker and SCARIER with the brand new Screamfest! We are amping up the scares and thrills on this dark journey through London's perilous past. Brave the Tyrant boat ride as you journey down the Thames in the dark to meet your fate. Step inside Sweeney Todd's infamous barber shop on Fleet Street and let him give your life a short back and sides. Dare you wander through the dark cobbled streets of Plague street? Who knows who or what will be lurking around the corners. Tread cautiously through the streets of Whitechapel, you never know… Jack the Ripper could be lurking just around the corner. Then, you'll be sentenced for your crimes and sent to Newgate Prison where a mysterious, dangerous prisoner awaits. We all know it would be better to hang, on Drop Dead: Drop Ride to Doom.
Admission: £30.00
Opening times:
OFFER TIMES:

Monday - Friday 10.00-16.00
Except Thursdays, when King Henry sleeps in until 11.00.
Saturday 10.00-18.00
Sunday 10.00-17.00

Offer not valid 26 - 27 October.

Closed 25 December.

Opening times may vary. Please check website for details.
Download Voucher
Disabled Access
Download Voucher