Westminster Abbey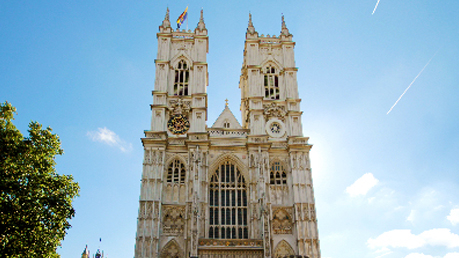 Westminster Abbey is one of the world's greatest churches, with a history stretching back over a thousand years.
The Abbey has been the Coronation church since 1066, and the setting for many other great events in the life of the nation, including sixteen royal weddings. It is also renowned as the burial place of kings and queens, and of other distinguished figures in the nation's history, from writers and musicians to politicians and scientists.
The Abbey is an architectural masterpiece, founded in 960 as a Benedictine monastery. St Edward the Confessor then built a new church, consecrated in 1065. The present building we see today was constructed by Henry III in the Gothic style from 1245.

To help you make the most of your visit, an audio guide is offered free with your entry ticket. The tour is available in twelve languages, including English, French, German, Spanish, Russian, Mandarin and Japanese. The tour can be downloaded to your phone ahead of your visit, or you can pick up a hand-held guide when you arrive.

Guided tours, led by Abbey vergers, are also available for individuals and family groups.

The Cellarium Café and Terrace, set in part of the 14th century fabric of the Abbey, is open throughout the year. Continuing the Benedictine tradition of providing hospitality, the Cellarium offers breakfast, lunch and afternoon tea.

Visitors to the Abbey shop can purchase a wide selection of souvenirs, gifts, postcards, books and CDs inspired by the life, history and architecture of Westminster Abbey.
Admission: £22.00
Opening times:
OFFER TIMES:

Monday - Friday 9.30-15.30
Saturday 9.30-13.30
Please note, this 2FOR1 online offer is not valid on the following dates:
24 March - 14 April 2018
The Abbey closes for visiting one hour after the published entry closure time.

Please be aware Westminster Abbey is a working place of worship and is therefore sometimes closed for special services and events.  You are advised to call 020 7222 5152 or visit the Abbey website to check opening times before your visit.

On Sundays and religious holidays such as Easter and Christmas, the Abbey is open for worship only. 

Opening times may vary. Please check website for details.

Phone number: 020 7222 5152
Download Voucher
Disabled Access
Download Voucher