HMS Belfast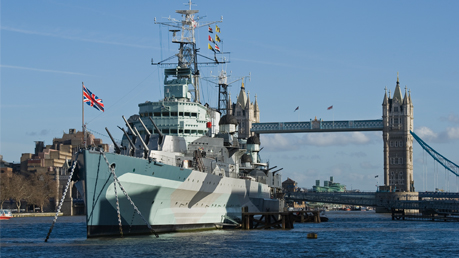 Climb aboard HMS Belfast and get up close to the inner workings of Britain's famous warship and iconic London landmark. Explore all 9 decks, from the guns that fired shots on D-Day right down to the engine rooms 15ft below sea level. Discover what life was like living at sea through the personal stories of bravery, friendship and adventure from those who lived aboard this floating city.
Admission: £17.00
Opening times:
OFFER TIMES:

1 November 2017 - 26 February 2018 10.00-17.00
Last admission 16.00

27 February 2018 - 30 October 2018 10.00-18.00
Last admission 17.00

Closed 24 - 26 December 2017

Opening times may vary. Please check website for details.

Phone number: 020 7416 5000
Download Voucher
Disabled Access
Download Voucher