Clipper Ship Cutty Sark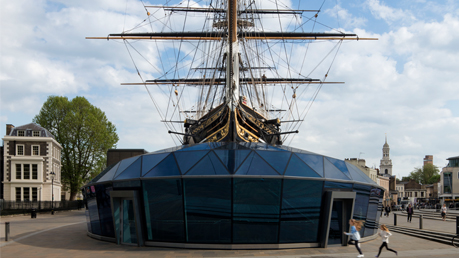 Climb on board the legendary Cutty Sark; once the fastest ship of her day, now meticulously preserved to tell the stories of life on board. Delve into the ship's extraordinary history through interactive exhibits, steer the ship, meet the crew, explore the Captain's cabin and take in sweeping views of the River Thames from the Main Deck.

Built in 1869, Cutty Sark visited almost every major port in the world. Now on terra firma in Greenwich, the ship has been raised three metres above the ground, allowing you the jaw-dropping experience of walking directly underneath and touching the ship's original hull planks and iron framework.

Trip Advisor feedback:
A travel unicorn: A historic attraction that appeals to kids. I give it 100%
Designed to captivate children and it works: play games, stamp your passport, take quizzes, and climb inside the sailors' berths.
We were in London for 4 days and Cutty Sark was our highlight. The ship is stunning; the stories and artefacts are enlightening. 
A really top class attraction! One of the best places you can visit in London.
If you have ever dreamed of a life at sea, here's a ship to stir those feelings! A real slice of our history.
The most magnificent sailing ship in the world...and (once) the fastest!
Wonderful location in the heart of Greenwich, this is a must see. 
A very 21 century attraction and a treat to walk around such a historic vessel. This ship has won a place in my heart.
Admission: £13.50
Opening times:
OFFER TIMES:

Daily 10.00 - 17.00
Last admission 16.15
Opening times may vary. Please check website for details.

Phone number: 020 8312 6608
Download Voucher
Disabled Access
Download Voucher