The Monument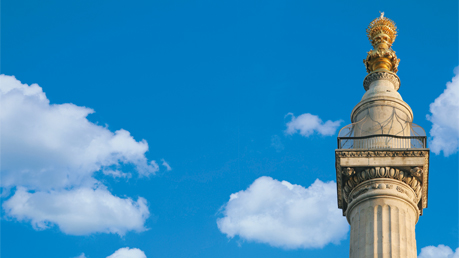 **Price is subject to change 31 March 2019**

As a landmark to one of the most famous events in London's history, The Monument stands alone. Designed by Sir Christopher Wren and Dr Robert Hooke, and completed in 1677, this colossal column commemorates the City which rose from the ashes.

Every year over 230,000 visitors climb the 311 spiral steps to The Monument's observation gallery, 160 feet (48.7 metres) above the ground, to enjoy unique and exhilarating views of the capital. The 360 degree views available allow visitors to take in the spectacular panoramas of London past and present.
Admission: £5.00
Opening times:
OFFER TIMES:

October - March
Daily 09.30 - 17.00 (Last admission)

Up to September
Daily 09.30 - 17.30 (Last admission)

Closed 24 – 26 December.

Opening times may vary. Please check website for details.

Phone number: 020 7403 3761
Download Voucher
Disabled Access
Download Voucher