< Back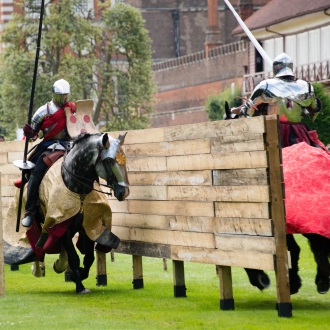 Tudor Joust at Hampton Court Palace
WIN a family ticket to Tudor Jousting at Hampton Court Palace
15 – 16 July 2017
This July, the grounds of Henry VIII's Hampton Court Palace will once again ring out with the sound of charging horse's hooves and the clash of cold metal, as for one weekend only King Henry VIII and his court take up residence for that most Tudor of sports; the joust.
Recreating the pomp and ceremony of a lavish court entertainment, visitors will be immersed into the sights, sounds and smells of the Tudor court, brought to life with dazzling displays of sword fighting, courtly games and music. There'll be a host of weird and wonderful Tudor instruments to discover, and the chance for young visitors to try out new pieces of armour for size.
Throughout the day, visitors can witness the knights arming themselves for battle, or watch as the court musicians prepare themselves for their royal command performance. Crowds will gather to cheer on the rival knights as they compete for glory, and soak up the thrill and spectacle of the joust as guests of the King.
An event for all the family. Included in a palace admission ticket.
www.hrp.org.uk/hampton-court-palace/whats-on/tudor-joust/
Enter your details below for a chance to win a family ticket.
---
This competition is now closed.